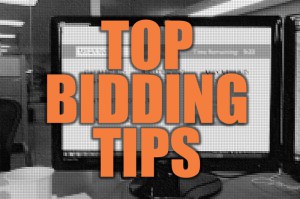 Best Bidding Strategy for Online Auctions
Best Bidding Strategy for Online Auctions
What is the point of wasting half your day bidding in an online auction if you don't win the item, right? Many people compete in these auctions every day with hopes of winning everything from government used property to estate sale items to restaurant equipment. Whether BCL Auction, e-Bay, or another online platform, we have compiled the best strategies for actually bidding to win.
1. Begin with a higher bid. Typically, people place their first bid as low as they can with hopes of getting the item at a much lower rate. This plan backfires on many occassions, as keeping the bid price low only invites more potential buyers. If you offer a larger chunk at the beginning, you will cut some of your competition.
2. Immediately match bids. When you're fast to provide a higher offer, you essentially intimidate other bidders into thinking you won't quit. This is a psychological tactic that frightens off other bidders.
3. Study your opponent's pattern. Once you know how your competitor's play, you can out maneuver their next move. Do they always bid in round numbers? Do they start small and end big? Vice versa? If you can predict their behavior, your chances of winning increase.
4. Understand when it's over. Overpaying for an item is not in your best interest. If you mark your bottom line and stick to it, you won't end up regretting the process. One foul auction win can be devastating for your funds. It's important to know when enough is enough.
Online bidding is a great way to get items you need at a lower rate that market value. However, don't let the fight to win cloud your judgement. Play to win, but know when it's time to go home. What other strategies do you use when bidding online?
This article was inspired by reverseauctionguide.com (http://www.reverseauctionguide.com/best-bidding-strategies/).